by facchan on Tuesday, February 1, 2011, under kat-tun, songs

yo!!! opss.. assalamualaikum minna ^^
kenapa eyh utk single baru ni, aku tak semangat nk excited nih ><
tonikaku.. lagu

B-side utk single UW

nih xde la bes sgt cam B-side tuk CUW... tapi boleh la..
1. TWO :
- ni lagu ballad... err aku ade gtaw tak dulu2 yang aku suke sumer lagu ballad KAT-TUN? cam

Neiro

to ka..Precious One to ka.. Crazy Love to ka..

Promise Song

to ka.. ippai2 laa.. and ofkos.. lagu ni aku suker out of sumer lagu B-side~ heheh.. ala2 NEWS gak la sikit.. kalo NEWS nynyi mesti aku xrase bes.. ngahahahah opss =X betol33!! cthnyer kan.. lagu ape eyh KAT-TUN nynyi lagu NEWS time Countdown 2009/2010 ritu.. terus tersuka lagu itu.. yg ade lirik nih " fure fure kimi to boku kara..".. lagu ape weh?? o.O
lololol bias gilerrrr~~ dah nk wat cane.. KT lagi cool.. hoho
lagu ni

sutek

i sgt ;___;

SUNDAY, I love You~~
2. Make or Break :
- wootss22 byk lirik omputih dlm nih!! lirik dye pon cam bes.. aku suker part

"
YES,I'M BANDIT SLIP INTO YOUR BODY REALLY WANT TO SINK ME?"

(aku dengar sore kame paling kuat.haha) ngan "
DIVE INTO YOUR HEART DIVE INTO YOUR FIRE" (yg ni koki!!! <33).. cool gilarrr koki!!
astu kan, kalo dengar lagu ni nyer

instrumental

kan.. cam sesuai jer wat

lagu senamrobik

!! XDDD kan kan~
3. Yoake Made :
- hurmmm... not leave strong impression la to me.. gomen KT!! >< lagu ni cam dah biasa dengar.. cam typical lagu jpop.. gitu la. and bile dgar lagu ni, rase cam lagu KT dulu2 before dorang debut.. tol tak tol tak?? xbes sangat..heheh [see, aku xde la bias sgt smpai lagu xbes pon still puji dorang.. XP]
4. Ultimate Wheels :
- rasenye aritu dah dengar cane kan.. heheh. aku

suker opening

dye. cam violin gitu~ bes33!!!
baby, no no no hitori janai

~ chorus dye bes gak!! hoho..
[lyrics here]
5. PV UW
- SIMPLE. yer, tu je perkataan sesuai! simple giler3333!!! just plain black and white.. xde prop pape pon.. wohohoh.. cam xcaya pulak! tapi kan.. simple xsemestinyer xhebat.. cer korang tengok.. dorang wat effect cam bayang2.. pastu asap2(?) itam tuh.. fuhhhh awesome giler CG pv tuh.. but then, for me la kan.. pv ni lagi bes drp pv LY.. hahaha.. andandand.. ape yg bes nyerrr!!!! wootsssss dorang menari kool gilerr~~ nak2 kame!!!!! thanks darl.. ahahha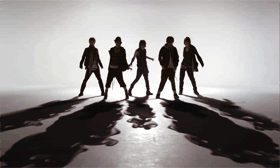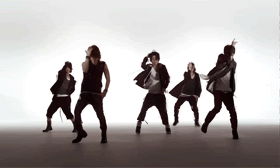 afjsalfjsa;lhf;slahfsa;l aku suker giler part nih!!!!
gifs credit to leenkath16@lj..
aritu stalk KTL jap.. hurmm nasib baik ade la jugak goods yg bes kat sana.lol
nk wat sniri cam mls la plak..hoho
semalam try wat header untuk LJ.. jaaaangg~~~
gelap giler!! ahahah sasuga KT fan.. hohoho ok tak percubaan pertama aku??? >< aku ni

tak reti

sgt bab2 nk matching color.. XD
oshhh ijou desu!! nnti aku nk flail pasal pv making!!! l;hf;lksahf;lskahflksahfl KAME!!!!!!!! *_____*
ps: Ya Allah, lindungilah kawan2ku yang berada di mesir sekarang nih.. harap2 dorang selamat kat sana.. ;__;
0 comments for this entry: